Previous
Next
KS Chicken Collagen Soup – Kee Song Online
One of the conglomerate product under KS brand. Made using our top rated KS Chickens, this savory KS Chicken Collagen Soup is simmered to perfect sweetness, appetizing nourishment suitable from young to old. To make a bowl of collagen soup, a group of dedicated food tester assembled to cook and innovate using the classic recipes handed down. With multiple attempts and exploration, a warm, hearty KS Chicken Collagen Soup is what you can get with 8 hours of brewing effort.
Using only the fine ingredients to extract and create the purest collagen within a chicken, every packet is flavorful and rich with natural collagen which is ideal for steamboat soup base. From premium cuisine to home-made delicacy, a packet of KS Chicken Collagen Soup is all you need to unleash your culinary skills.
Made affordable to the public with distinctive quality, KS Chicken Collagen Soup is undoubtedly a proud produce from local chicken's supplier.

LOW FAT & SODIUM


TRANS FAT FREE


NO MSG


NO PRESERVATIVE


NO ARTIFICIAL FLAVORING & COLORING
Features and Review
by C***.

Nice soup base for steamboat or noodle. Will definitely order again
by Melina C.

Nice for soups and it makes it thick versus thin stock that is watery
by *****327

Tried it with steamboat and it taste delicious. Not too salty and it is easy to prepare. Will definitely recommend and buy again.
by Derrick L.

Nice soup, not too salty and not too oily. Collagen texture is thick. Will buy again.
by Tan C.

Nice and not salty. Convenience pack!
Recipes
Cantonese Chicken Congee
Chicken Mee Sua Soup
Where to Buy?

Frozen KS Chicken Collagen Soup -500g (non halal)
$9.90
$9.90Add to cart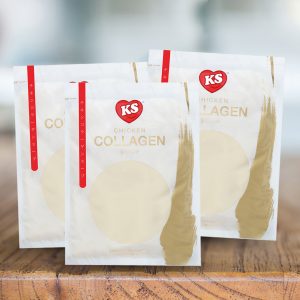 New Item
Frozen KS Chicken Collagen Soup (non halal) – 3 pkt…
$27.00
Read more

New Item
Frozen KS Chicken Collagen Soup (non halal)- 5 pkt bundle
$41.25
Read more
Also available at:
Can't wait? Order and deliver now!
FAQ
How to cook KS Chicken Collagen Soup?
Pour frozen content into pot directly, no defrost required. You may try without adding water first then add water according to your liking and dishes and bring to boil.
Is it halal?
This item is not halal certified.
Where can I buy?
You can purchase at Shopee, Qoo10, RedMart, Amazon, Kee Song Online and LazMall and FoodPanda. Only available online.
Shelf life
1 year from production date, see expiry date at the packaging
Ingredients and allergen
Water, Chicken, Onion, Carrot, Salt. No source of allergen
Serving suggestion
Serving per packaging: 2
Partnership
Interested in bulk purchase? Contact us now at 63600169 or email contact@keesong.com, we are happy to assist you!